There's no question that the world is changing.
It's not just society. It's the planet. As discussions about climate change heat up around the world, there has become an increasing need for policies to either adjust or be created to ensure that everything we do has the Earth front of mind.
Across Europe, sustainable housing policies have taken many forms. It might be incentives for construction companies to adopt new best practices or rewards for building more energy-efficient homes.
As there is no universal sustainable housing policy across the region, there is an opportunity to learn from different countries. Here are some examples of the legislations that are aiming to provide better protection to the planet.
What is Considered a Sustainable House?
The key to green housing is that it must have the least possible negative impact on the environment. A lot of this comes down to sustainable construction practices.
It could be the method materials are sourced, or the resources used to build the home. Once the building is finished, it should also avoid releasing toxins and provide energy efficiencies.
What are the Benefits of Building Sustainable Housing?
There are many advantages to building eco-buildings or green homes. Besides reducing the environmental footprint, sustainable homes can provide energy and water efficiencies. It helps reduce dependency on non-renewable resources while also lowering utility bills.
These benefits also translate into lower operating costs. With more daylight entering the home, there's less of a need to utilise heating appliances to keep warm or have the lights on throughout the day.
There's also research in the US that shows that green buildings can increase market value. Owners have seen a higher resale value and an increase in buyers requesting sustainable features when searching for a new home.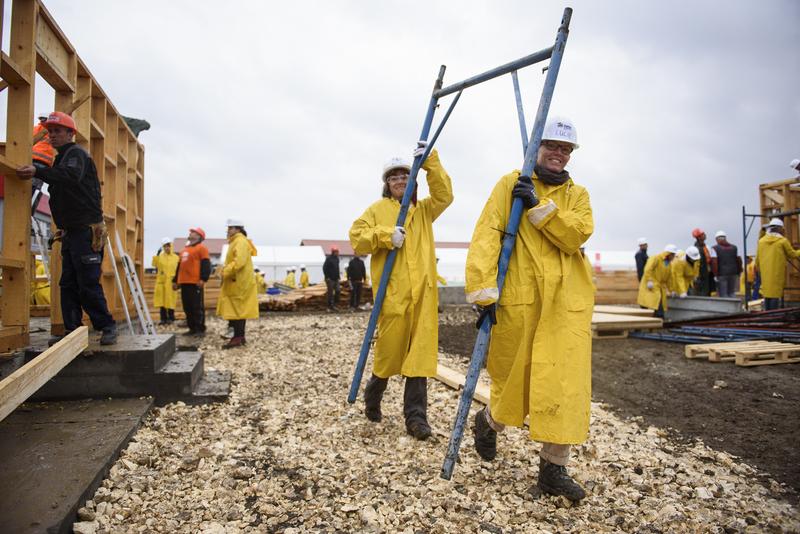 What Sustainable Housing Policies Exist in Europe?
Many countries across Europe promote sustainable housing in various ways. Here are some examples are encouraging the construction industry to change its practices to build a better tomorrow.
Austria
After a change of government in 2020, new sustainable housing measures were almost immediately introduced, including a commitment to investing one billion euros per year in investment dedicated to climate change.
Some of the funding will result in thermal insulation improvements, upgrading energy systems, and decarbonising district heating systems. There is also 250 million euro assigned to improving the take-up of renewable energy sources by households.
Denmark
The country has launched a green housing initiative that will see four billion euros invested up until 2026. Some of these funds will be assigned to renovating social housing units and the remainder to building sustainable communities.
Denmark has also launched the green guaranteed scheme, which increases incentives for energy renovations. The government has even created a development pool of funds for sustainable investments in recyclable building materials and improvements of indoor climates.
Estonia
Instead of targeting building new sustainable homes, Estonia is turning its attention to renovating houses erected before 2000.
The government has estimated that this approach will improve the living conditions of more than 80% of the population while increasing the quality and energy efficiency. Work has already commenced and is due to be completed before the end of the decade.
France
The French government has assigned 30 billion euros for green measures in its aspiration to be carbon neutral by 2050. Some of this funding will go towards renovating social housing, with the remainder aimed at incentivising the building of sustainable properties.
There are also plans to fast-track the development of sustainable communities and green areas, which was raised during the pandemic. However, this is still in the design phase and yet to be established in full.
Italy
The Superbonus 110% initiative was introduced in July 2020. It is designed to support energy retrofits, anti-seismic renovations, installations of photovoltaic panels, and an increase in structures and chargers for electric cars.
The 110% refers to the deduction of expenditure for these types of work above income taxes and is eligible for residential households, condominiums, co-ops, public providers, and more.
Sweden
The Swedish government have assigned a portion of their budget to meet their energy performance targets. It's expected to begin with approximately 90 million euros in 2021 and gradually increase to 420 million euros by the end of 2023.
However, how these funds will be spent is still being finalised. Sweden is also working through a framework and incentive scheme for the construction industry.
Armenia
The Armenian government has signed on to the Comprehensive Enhanced Partnership Agreement with the European Union and has commenced work on developing frameworks to improve energy efficiency in homes.
Armenia is looking to align structures and processes with other European countries while also establishing laws around energy performance and eco-design. Once finalised, Armenia can commence rolling out initiatives and enforcing the new policies.
Scotland
One of the key objectives for Scotland is the decarbonisation of the national housing stock. As of 2020, approximately 25% of households are considered fuel poor, which the government is hoping to address.
The plan will be to target 50% of homes or over one million households and convert these structures into low carbon heating buildings by the end of 2030.
Where Can You Learn More About Sustainable Housing?
While plans are in motion and sustainable housing initiatives are underway in many countries throughout Europe, it's expected that more programs and initiatives will be introduced as lessons are learned.
With the different approaches being taken, it also provides an opportunity to develop best practices as governments discover what is working and what can be improved upon.
If you want to be up to date with the latest housing practices and innovations, you should sign up for the Europe Housing Forum. Key decision-makers and stakeholders in the industry will bring their knowledge and insights to share with everyone virtually. Sign up today – it's free – by heading to www.europehousingforum.eu/registration.